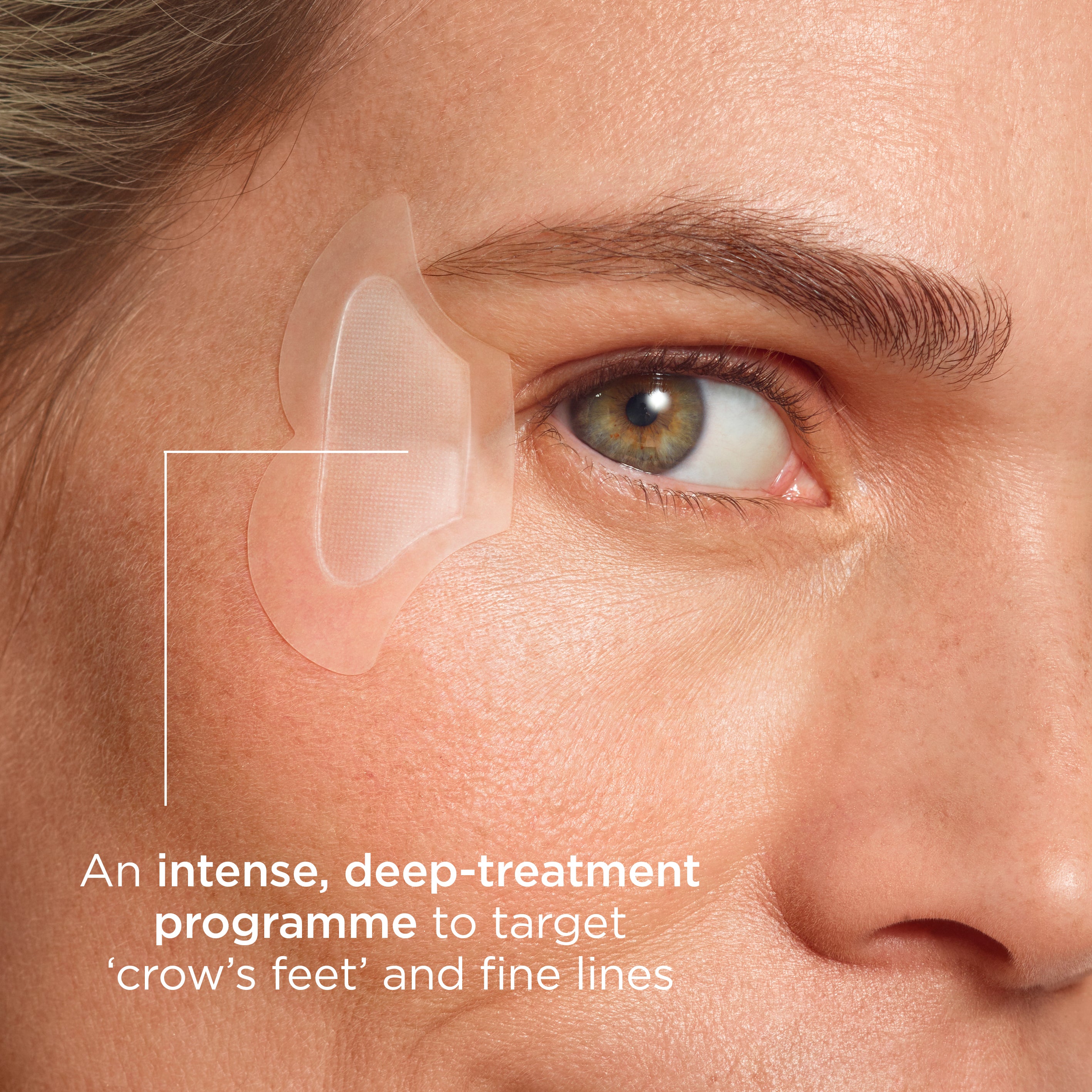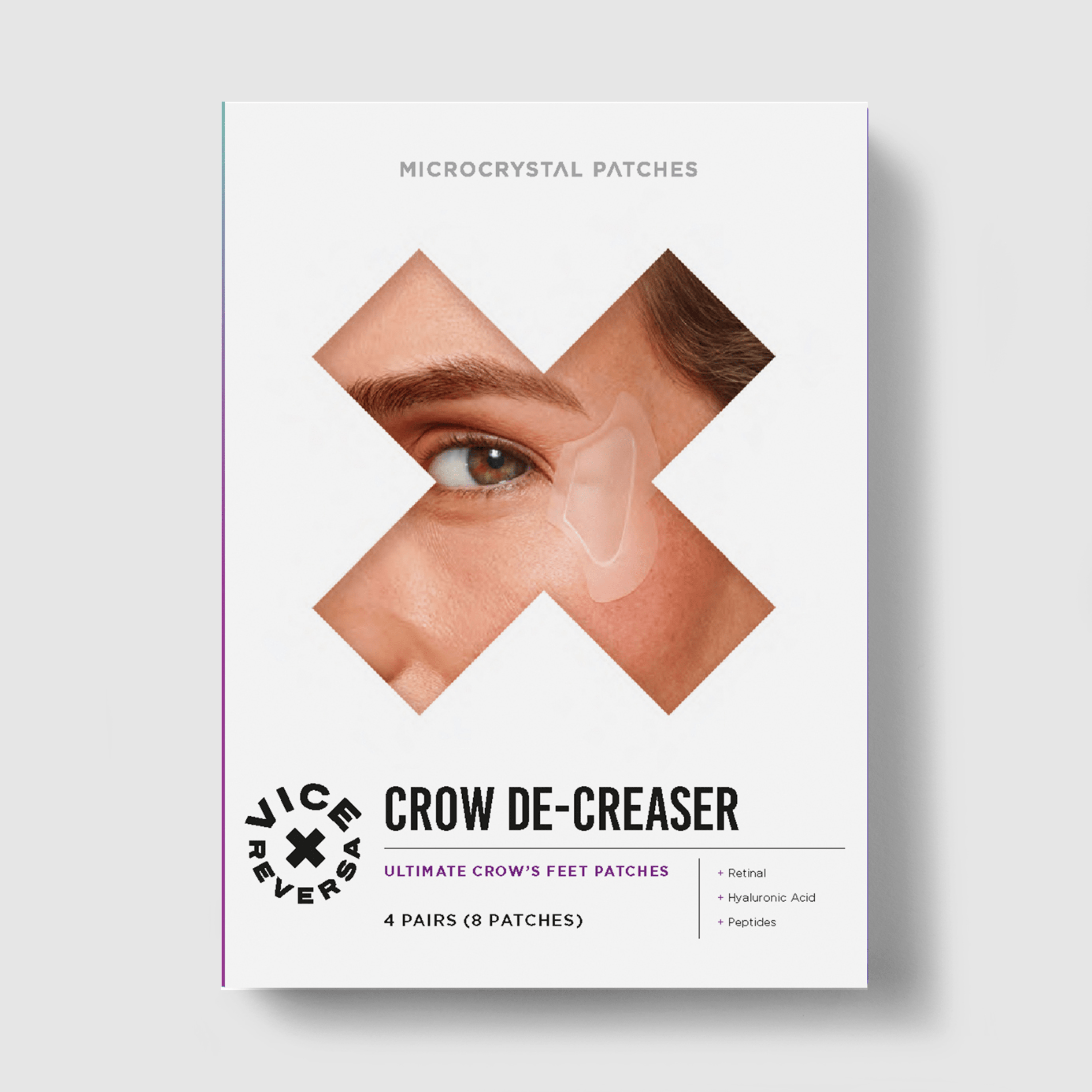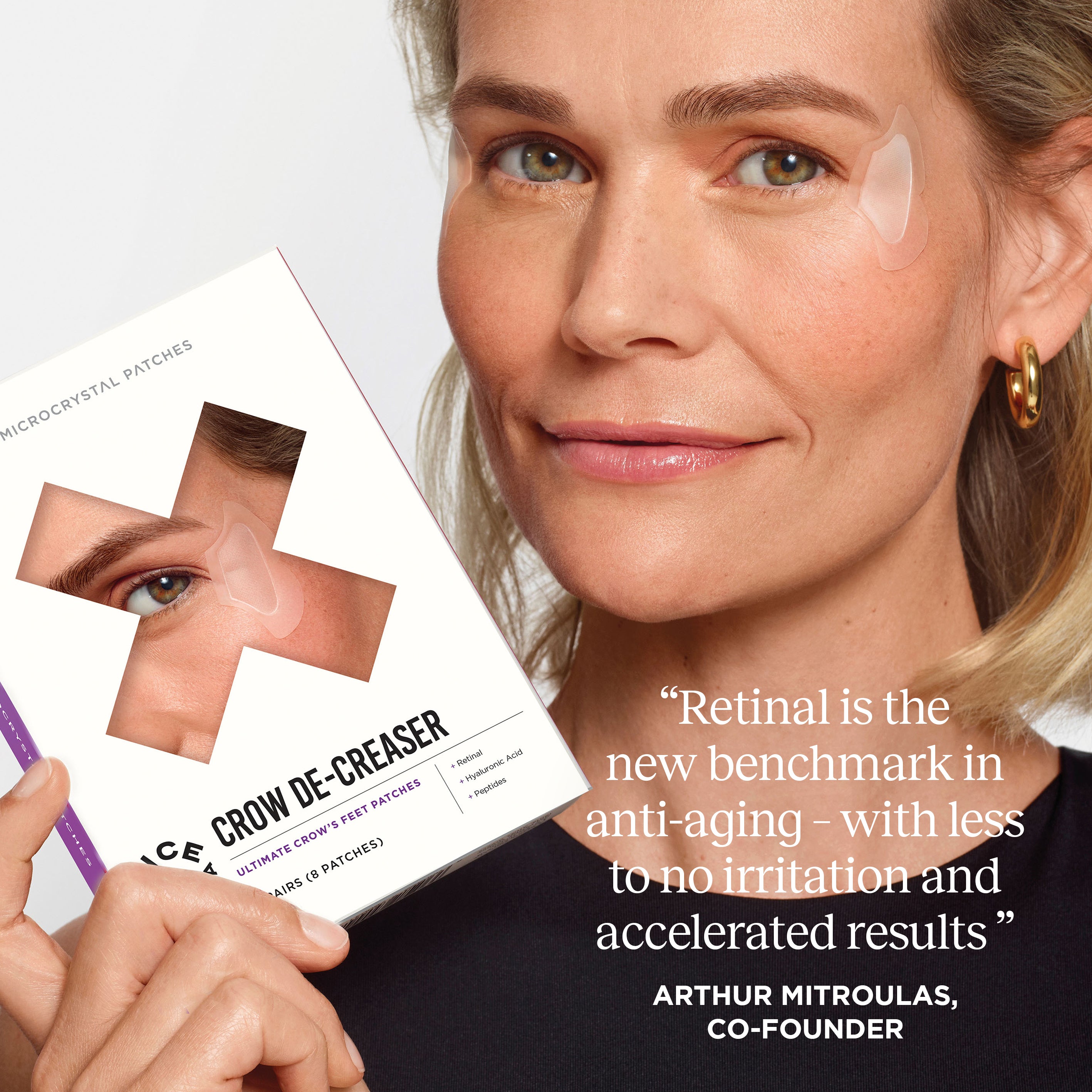 Crow De-Creaser
Refresh your outer-eye with our specialized treatments. 2700 MicroCrystal tips impart a concentrated burst of active ingredients for a smoother, firmer skin texture.
Soften 'crow's feet' expression lines
Fit snugly in the outer-eye contour
Deliver an intense burst of essential ingredients
Choose your program:
6 Week Intensive Program (12 Pairs)
Hyaluronic Acid is a natural substance found in the body that helps keep skin hydrated, lubricated, and youthful. It helps retain moisture and provides a cushioning effect for the skin, making it look plump and smooth. Used in a variety of skincare products, hyaluronic acid helps reduce wrinkles, fine lines, and dryness.
Retinal is an active form of vitamin A, a powerful antioxidant that helps to restore the skin's natural barrier and reduce the appearance of wrinkles and fine lines whilst helping to protect the skin from environmental damage.. It also helps to even out skin tone and reduce the appearance of age spots and other discoloration.
Peptides are a powerful ingredient in skin care products as they help to stimulate collagen production, which is essential for firm-looking skin. We have chosen three key peptides to help reduce the appearance of fine lines and wrinkles: Palmitoyl Pentapeptide-4, Acetyl Hexapeptide-8 and Copper Tripeptide-1. These peptides are scientifically proven to help improve the texture of your skin, reduce wrinkles and give you a more youthful look.
Applying to clean, dry skin, press each MicroMask onto the skin firmly (press, do not rub). Ensure the centre of the MicroMask is fully pressed to activate the crystal tips.
Leave on for at least 2 hours, ideally overnight, allowing the MicroCrystals to fully dissolve and release the actives deep into the skin where they can be most effective.
Weeks 1-2
Use: 2 Applications per week
Hyaluronic Acid holds onto moisture like a sponge for soft, supple skin. You may notice that your skin looks and feels smoother, with a more youthful and radiant appearance
Weeks 3 to 6
Use: 1-2 Applications per week
Over time, retinal and peptides smooth and firm crow's feet expression lines and eyes appear brighter and wide awake.
Week 6 onwards
Use: Weekly deep treatments as part of your regular skincare routine
Committing to weekly deep treatments will help keep crow's feet at bay.
Sodium Hyaluronate (Hyaluronic acid), Glycerin, Trehalose, Ascorbyl Glucoside, Madecassoside, Glutathione, Polyglyceryl-10 Laurate, Retinal, Adenosine, Palmitoyl Pentapeptide-4, Acetyl Hexapeptide-8, Copper Tripeptide-1.
Crow De-Creaser is our brand new weekly treatment that supercharges your anti-aging. Each outer-eye MicroMask™️ is covered in hundreds of tiny crystal tips, formulated from a blend of powerful active ingredients. 
On application, the tips bypass the skin's outer layer and dissolve - drenching the dermal layers in powerful Retinal, Hyaluronic Acid and Collagen-Boosting Peptides for an intense anti-ageing impact on your crow's feet.
"Revolutionary, Effective and PAinless"
"If you'd like the effects of micro-needling without the effort, look to Vice Reversa."
"outrageously good results."
"[One of] The Best Micro-Needling Eye Patches To Use At Home"