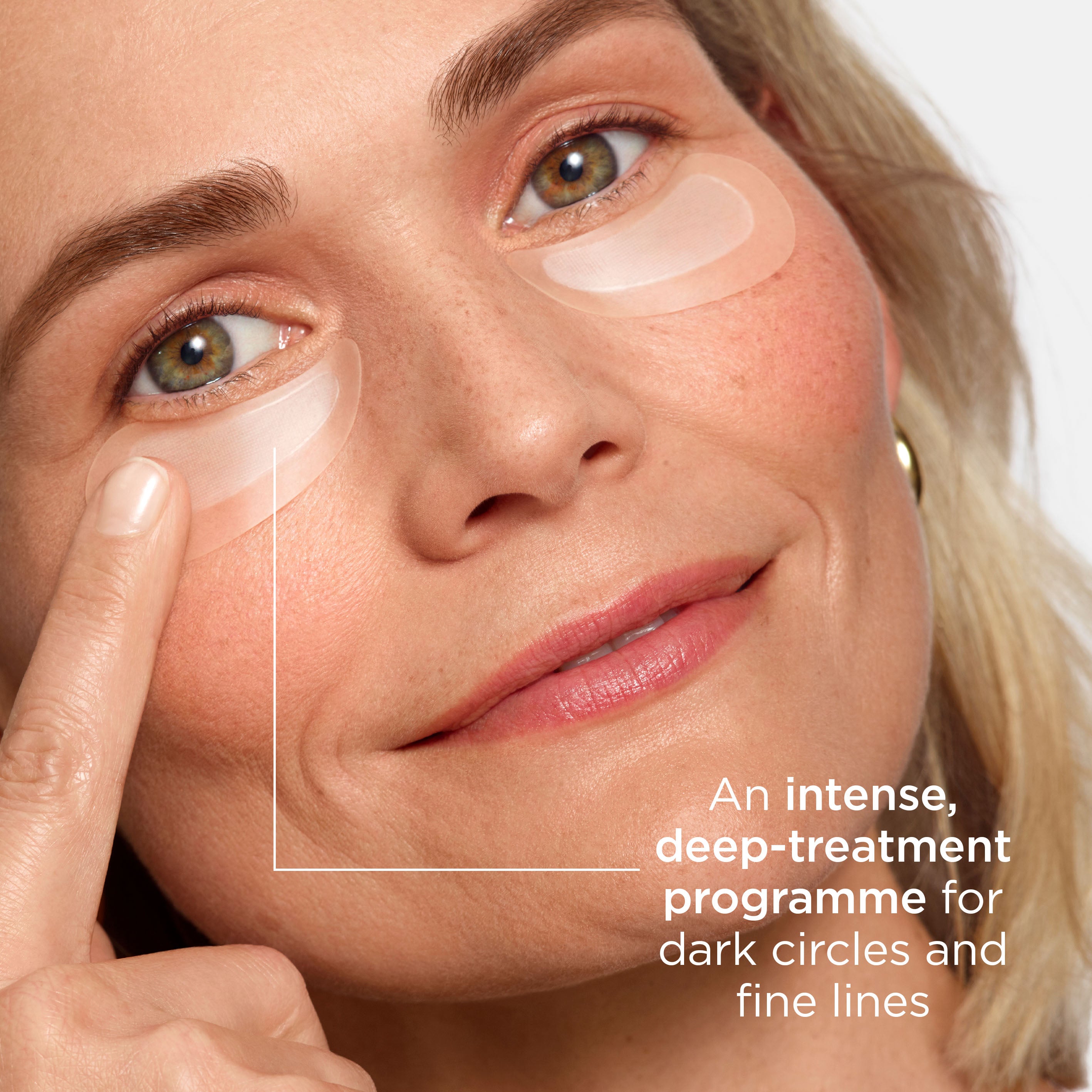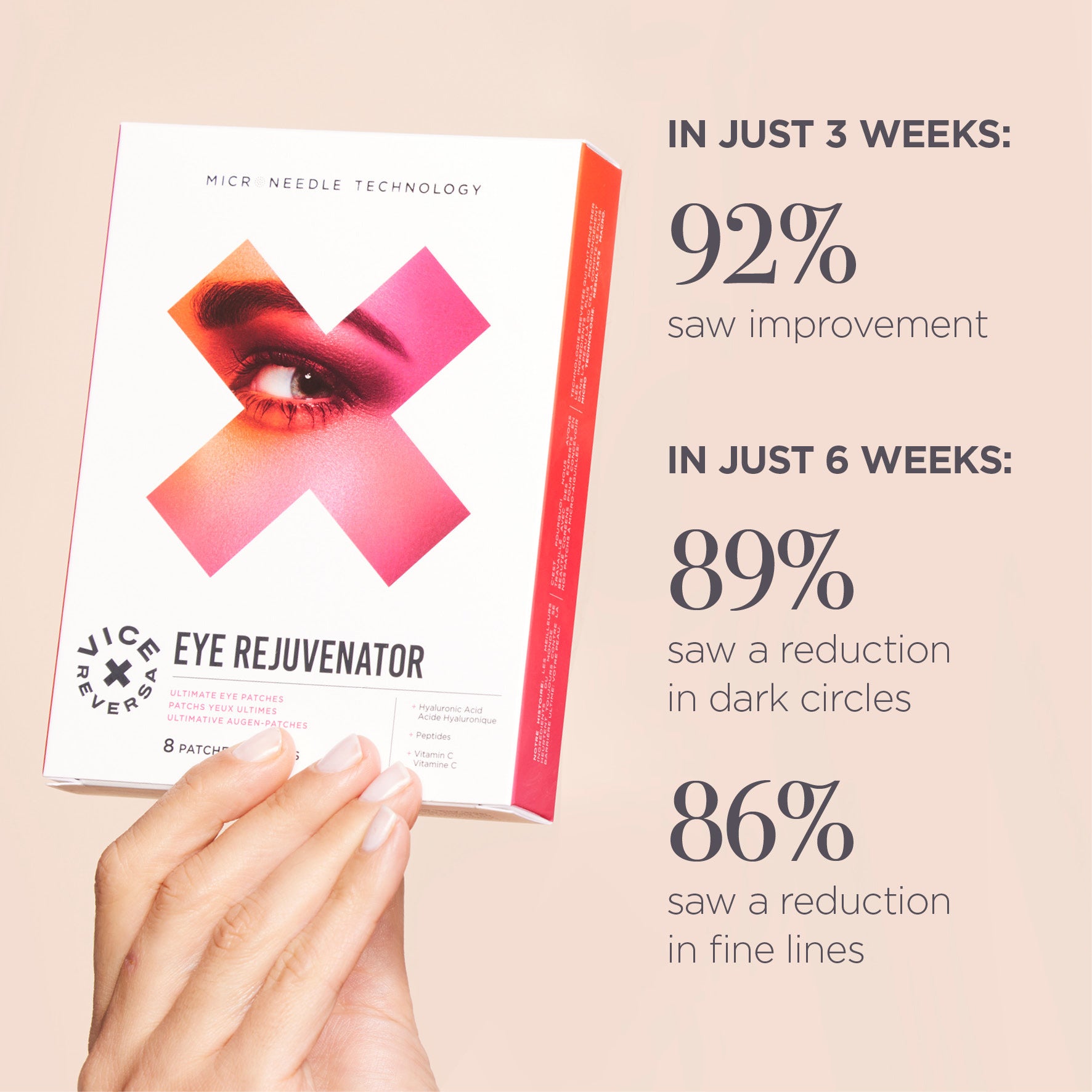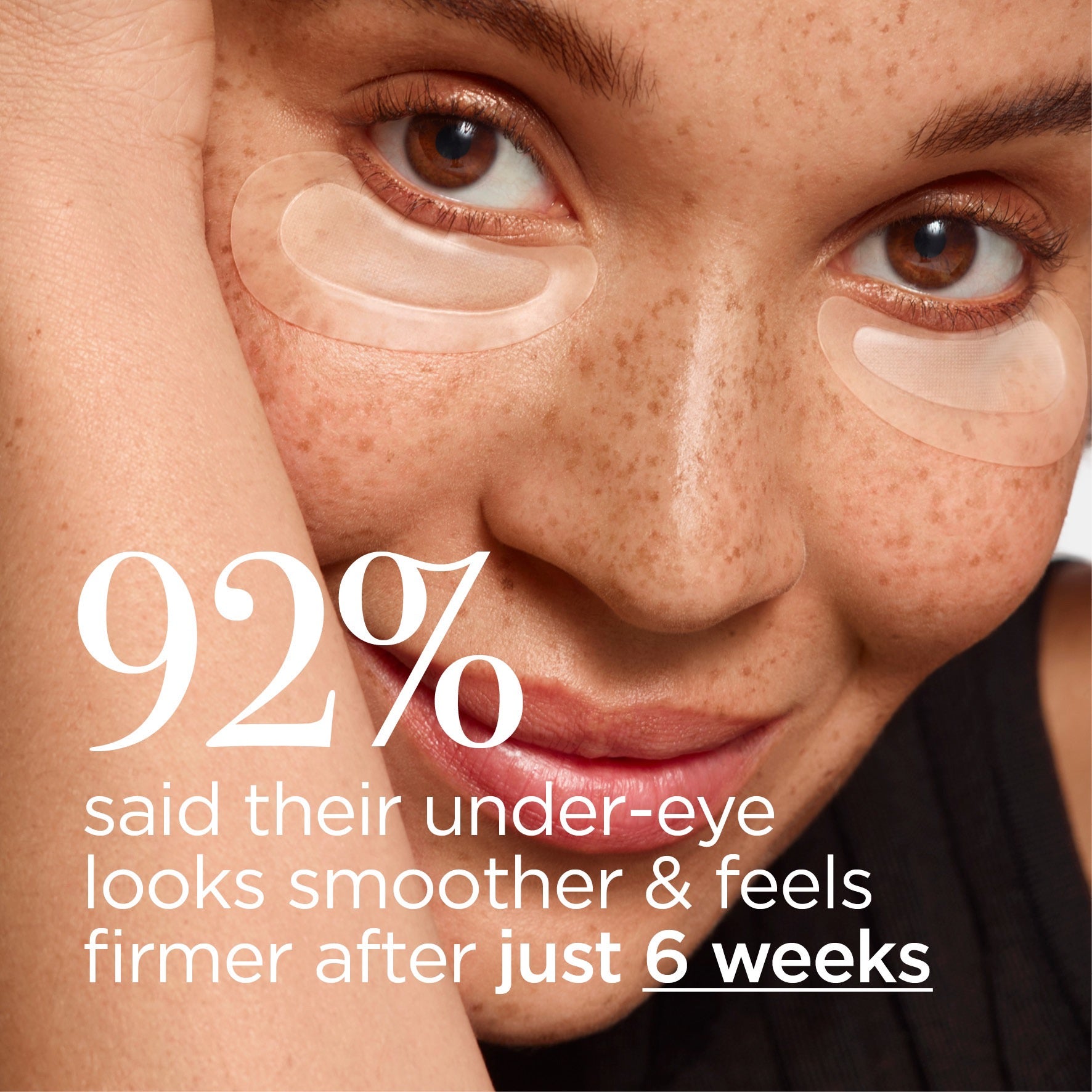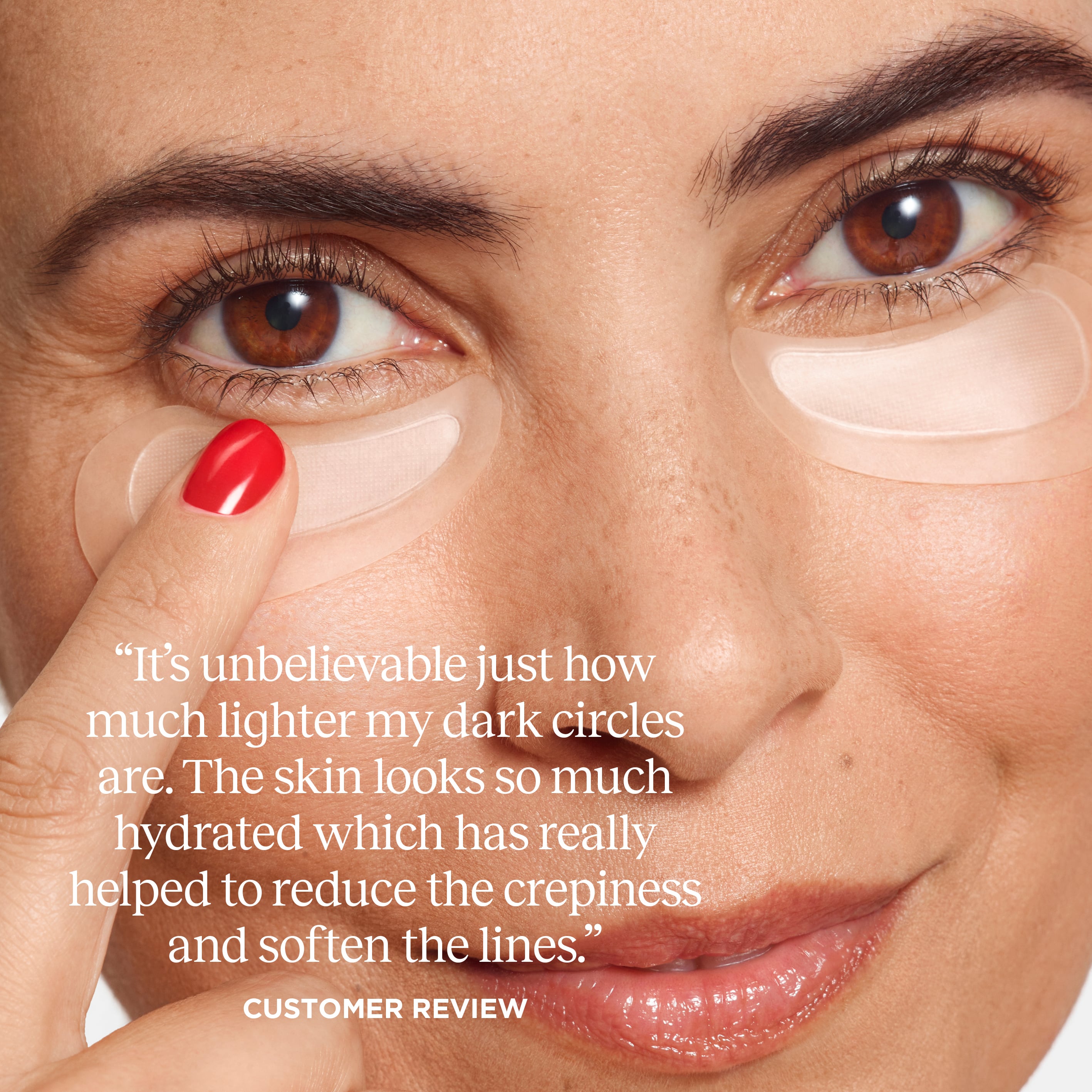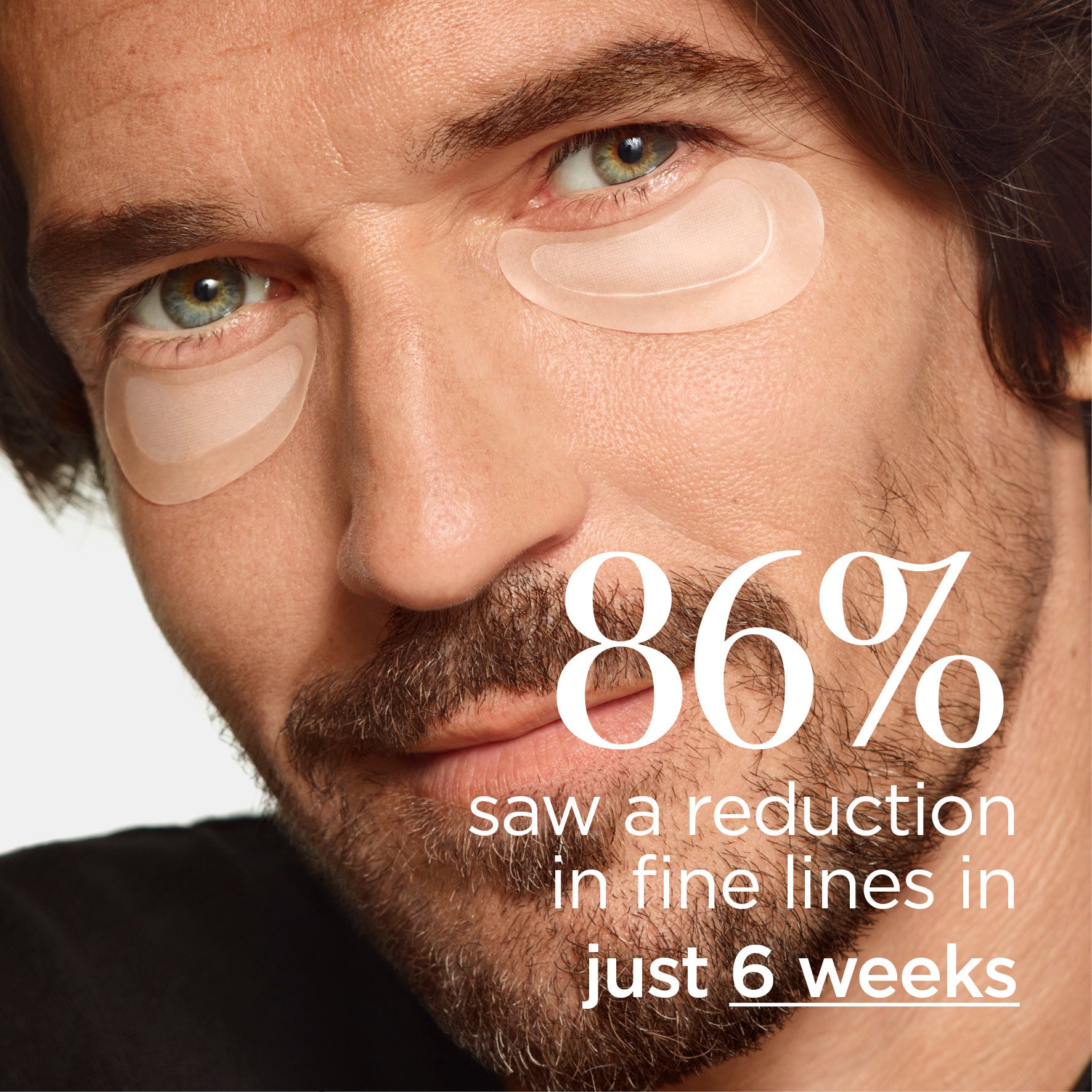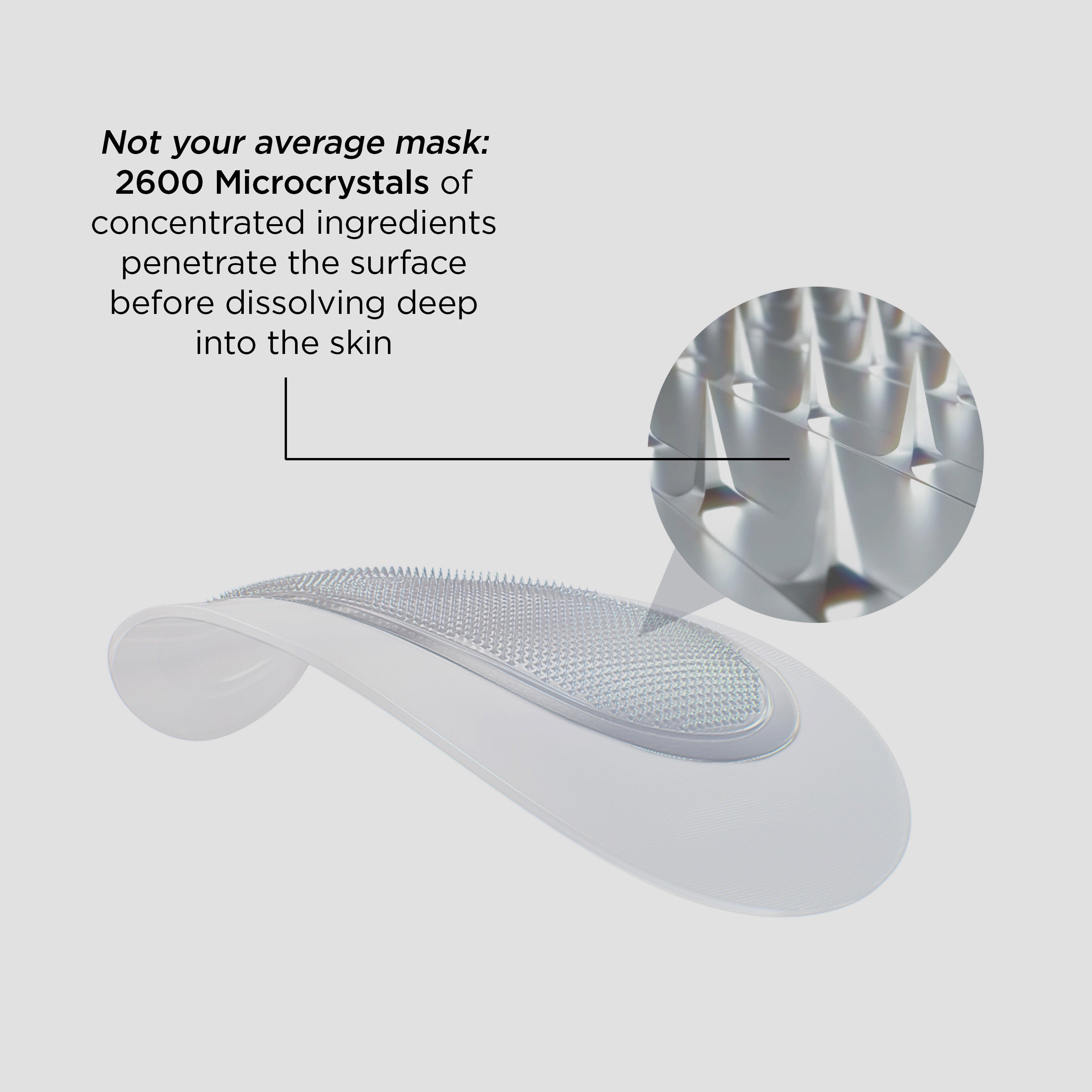 Eye Rejuvenator
Give your under-eye an extra boost with our weekly deep treatments formulated and shaped for the delicate under-eye.
Plump fine lines
Ramp up radiance
Brighten dark circles
Choose your program:
6 Week Intensive Program (12 Pairs)
Hyaluronic Acid is a natural substance found in the body that helps keep skin hydrated, lubricated, and youthful. It helps retain moisture and provides a cushioning effect for the skin, making it look plump and smooth. Used in a variety of skincare products, hyaluronic acid helps reduce wrinkles, fine lines, and dryness.
Vitamin C is one of the most powerful nutrients for skin health. It has antioxidant, anti-inflammatory and anti-aging properties that can help improve skin texture and tone, smooth out fine lines, reduce dark spots and dark circles, and protect against free radicals. Vitamin C is a safe and suitable staple to integrate into any skincare regime and can be used in topical creams and serums, as well as microneedle patches. Incorporating vitamin C into your daily routine can result in brighter, healthier skin.
Peptides are a powerful ingredient in skin care products as they help to stimulate collagen production, which is essential for firm-looking skin. We have chosen three key peptides to help reduce the appearance of fine lines and wrinkles: Palmitoyl Pentapeptide-4, Acetyl Hexapeptide-8 and Copper Tripeptide-1. These peptides are scientifically proven to help improve the texture of your skin, reduce wrinkles and give you a more youthful look.
An independent consumer study showed...
100% agree that Vice Reversa MicroMasks are pain-free
97% agree that Vice Reversa MicroMasks are easy-to-use
92% agree that their under-eye area looked smoother and felt firmer
89% agree that Vice Reversa Eye Rejuvenator has made an improvement to their under-eye area
89% agree that dark circles under their eye had reduced
89% agree that the result from Vice Reversa Eye Rejuvenator is better and faster than traditional eye creams
91% agree that Vice Reversa MicroMasks have boosted their anti-aging skincare
Results from a study conducted on 70 people with results self-reported after six weeks.

Applying to clean, dry skin, press each MicroMask onto the skin firmly (press, do not rub). Ensure the centre of the MicroMask is fully pressed to activate the crystal tips.
Leave on for at least 2 hours, ideally overnight, allowing the MicroCrystals to fully dissolve and release the actives deep into the skin where they can be most effective.
Weeks 1-2
Use: 2 Applications per week
Moisture-magnet Hyaluronic Acid and skin-brightening Vitamin C start to deeply hydrate the area and improve luminosity. Tired, bleary eyes start to look fresher and more awake.
Weeks 3 to 6
Use: 1-2 Applications per week
With regular use, peptides begin to smooth and firm crepey skin and plump fine lines.
Week 6 onwards
Use: Weekly deep treatments as part of your regular skincare routine
The key to great skin is consistency. Not only will feeding the area result in continued improvement over time, committing to weekly treatments will help to keep dark circles and fine lines at bay.
Sodium Hyaluronate (Hyaluronic Acid), Glycerin, Trehalose, Ascorbyl Glucoside (Vitamin C), Madecassoside, Gluatathione, Polyglyceryl-10-Laurate, Adenosine, Palmitoyl Pentapeptide-4, Acetyl Hexapeptide-8, Copper Tripeptide-1.
High performing but gentle on skin our ultimate eye patches are formulated to soften fine lines, strengthen skin elasticity, boost hydration, and brighten the eye area.
MicroCrystals get to work beneath the skin surface with every patch containing 2600 self-dissolving MicroCrystals preloaded with our skin-restoring formula. As you apply the patch, the needles self-dissolve releasing ingredients into the epidermis where they're most needed to leave skin looking plump, smooth and rejuvenated. 
The needles contain a blend of high-performing active ingredients, known for their skin rejuvenating properties. Peptides work with your body's natural collagen production to promote cell rejuvenation, visibly plumping skin for a youthful and renewed appearance. Hyaluronic acid provides deep hydration, leaving skin well-moisturized and nourished. Vitamin C brightens and smooths skin, while balancing skin tone to reveal a radiant glow.
Designed to be gentle on the delicate eye area these easy to apply ultimate eye patches fit seamlessly into your routine with visible improvements over time which continue to get better with continued use.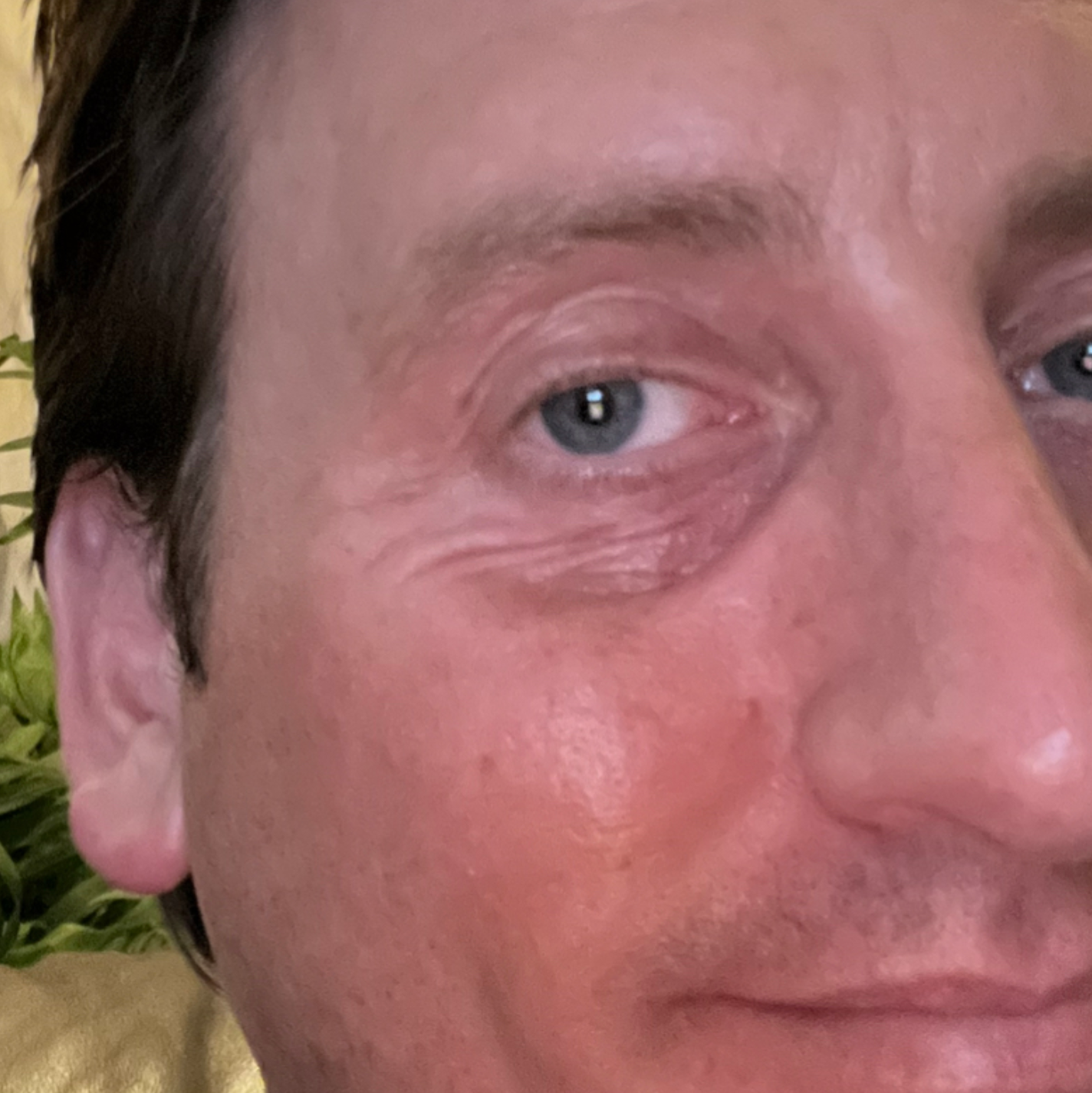 "I could not be more impressed"
Jon, After 6 Weeks
I absolutely love these! They have been a godsend for my undereyes. I could not be more impressed. These patches are incredibly easy to use and provide noticeable results.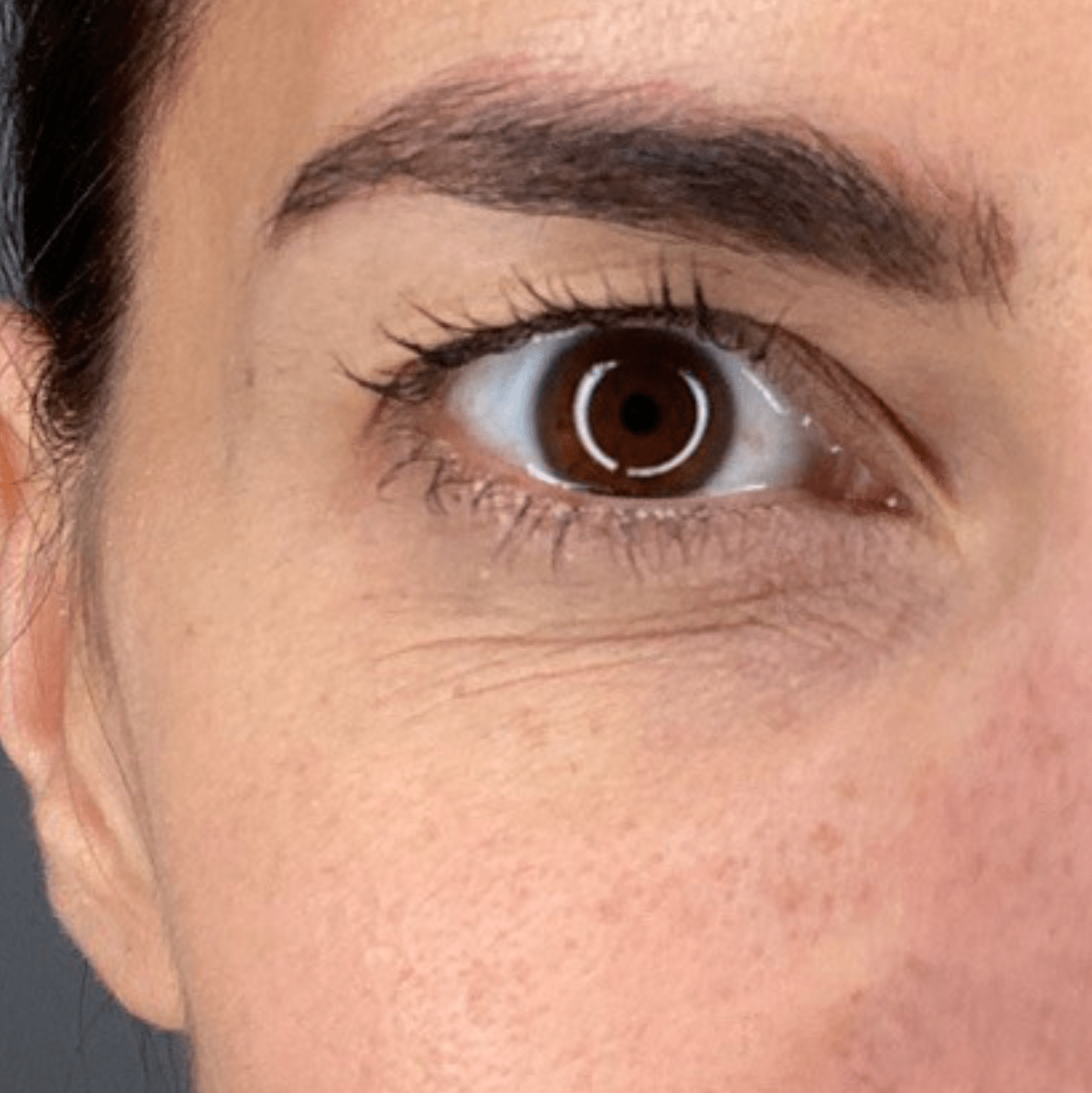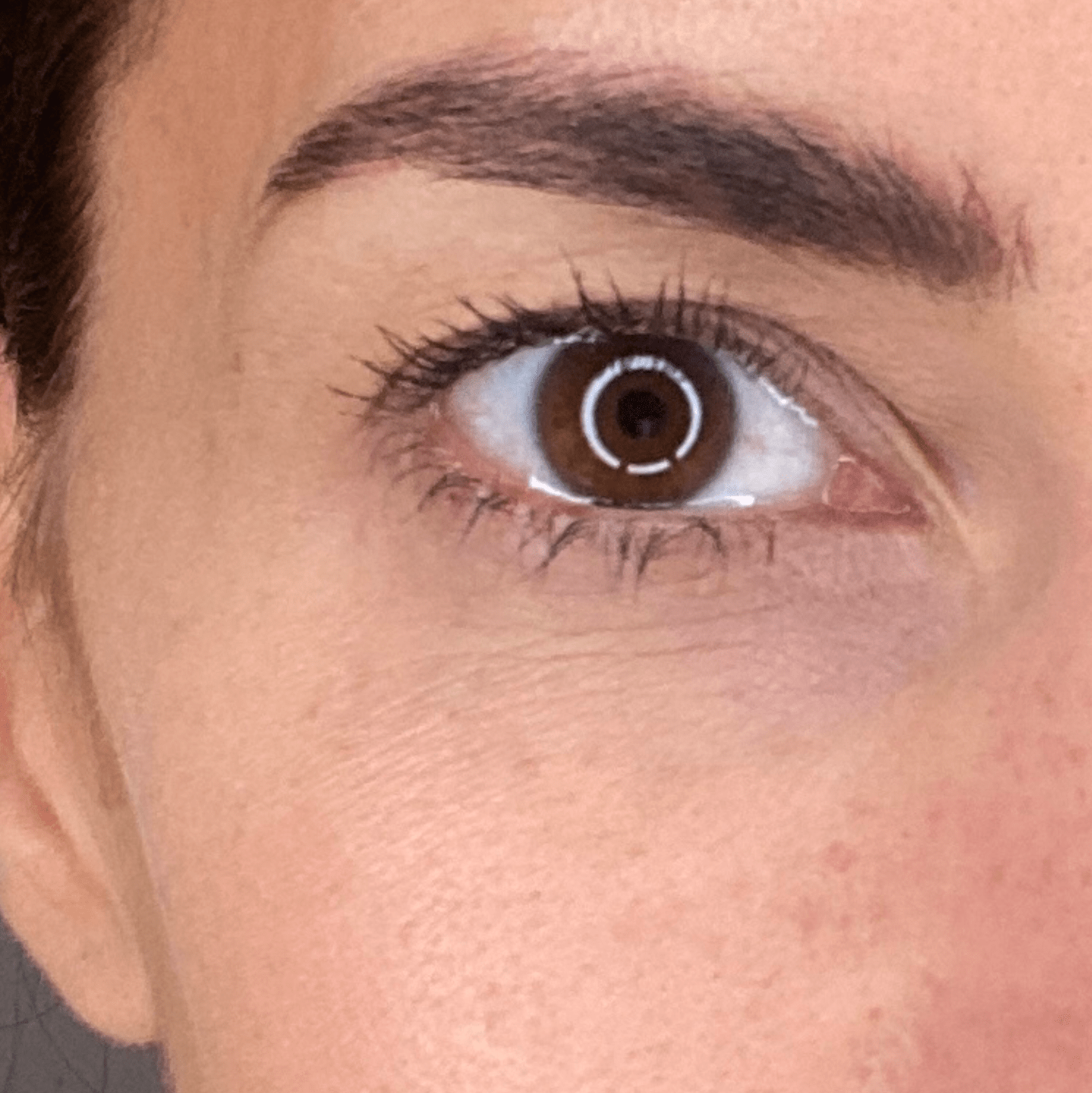 "I can immediately feel the difference"
Kristen, After 3 Weeks
I have been using them twice a week for the last two months, and I can already see a huge difference in the fine lines around my eyes. After taking them off in the morning, I can immediately feel the difference in the area under my eyes - so tight and bright!
"They Don't Hurt At All"
Fiona, After 3 Weeks
When you press them into your skin, those pyramids deliver all the goodness into the deeper layers of the skin because they go penetrate past that top layer of skin. Honestly, they don't hurt at all. They are so, so easy to use you just take them and you press them on.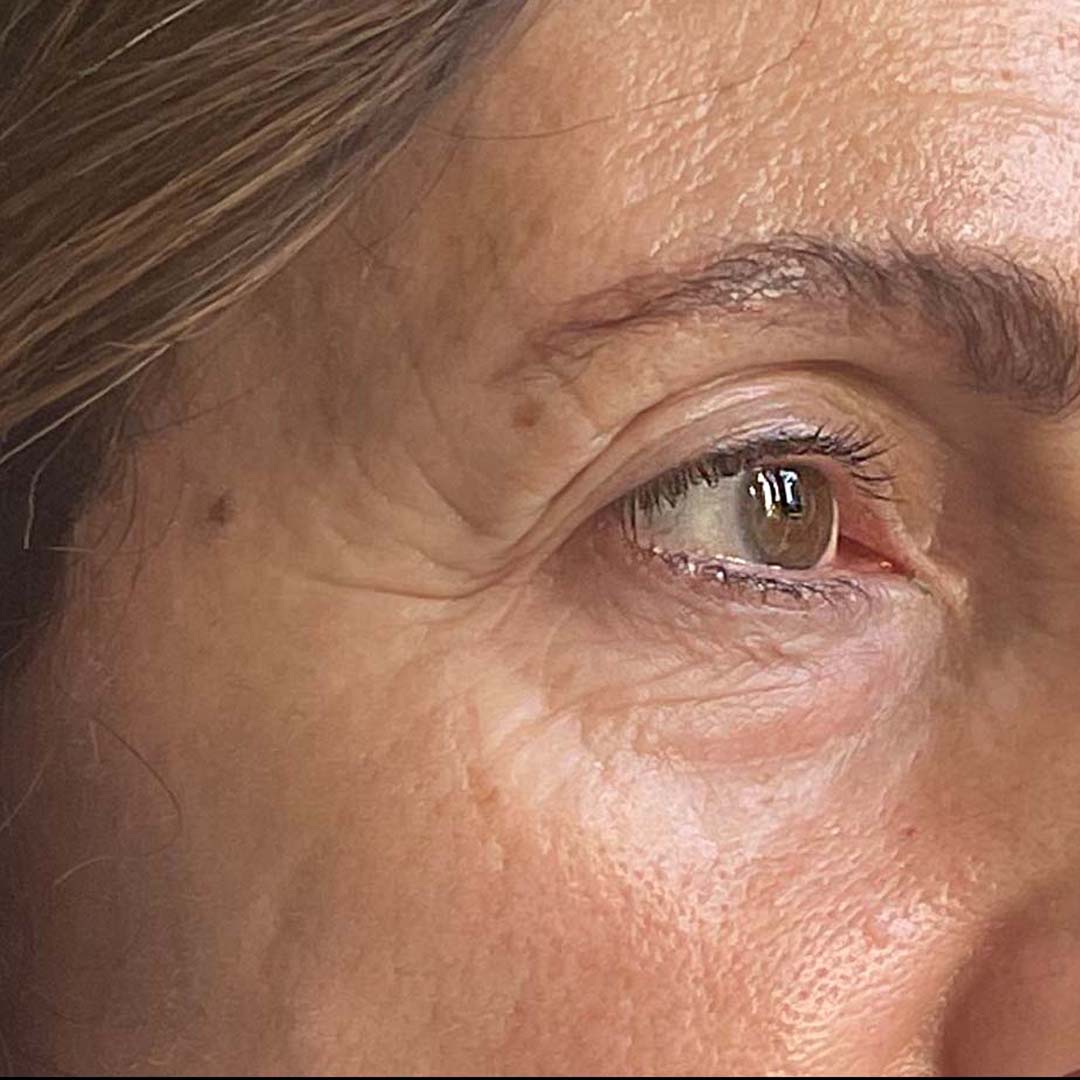 "My Dark Circles Are Disappearing"
Dorothy, After 6 Weeks
After 6 weeks my eyes are noticeably brighter, and the dark circles are disappearing which is nice to see and the lines around my eyes have softened. I'm going to continue to use weekly to maintain my results and also to see how they continue to improve over time.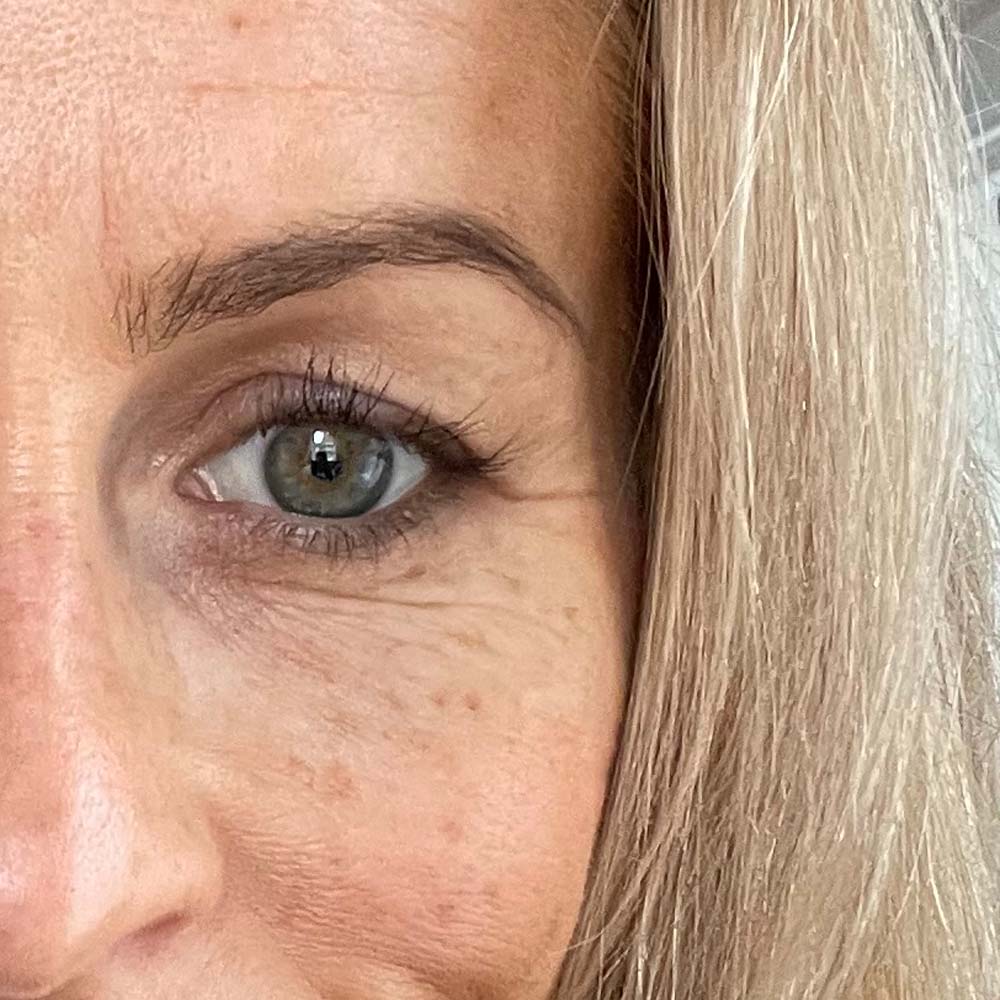 "Brighter, Smoother Under‑Eyes"
Abbé, After 3 Weeks
What I can always see right away is a brightening of the shadows and lightening my dark circles. It's unbelievable just how much lighter they are. The skin looks so much hydrated which has really helped to reduce the crepiness of my skin and soften the lines.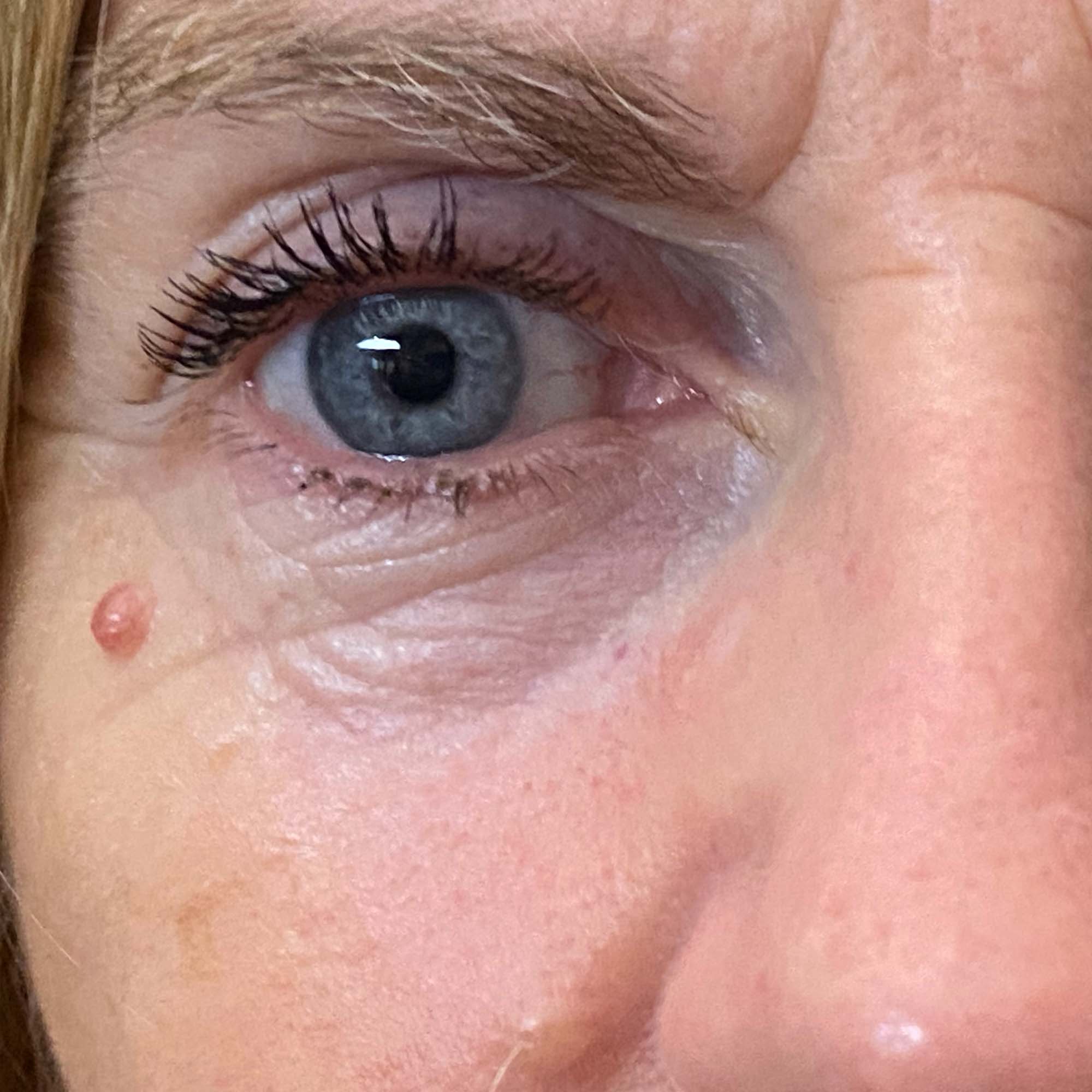 "You can Feel the MicroCrystals Working"
Tania, After 2 Weeks
I've been using Eye Rejuvenator over the last 6 weeks. I love how easy the patches have been to use and incorporate into my routine. You literally peel them off gently push them and you can feel the MicroCrystals working. I can see the improvement the plumping of my lines and my eye area looks more awake and alive.
"Revolutionary, Effective and PAinless"
"If you'd like the effects of micro-needling without the effort, look to Vice Reversa."
"outrageously good results."
"[One of] The Best Micro-Needling Eye Patches To Use At Home"